February is National Children's Dental    Health Month
         February is most widely known as the month to celebrate love…and candy!  But at Dentistry for Children we love February to celebrate National Children's Dental Health Month. We hope this serves as a reminder to call and make an appointment to come visit us if we haven't seen you in awhile and if you are scheduled already, we look forward to seeing you soon. As far as celebrating Dental Health Month at home, lets take a look at a couple of key items to focus on.
         First, let's focus on candy…although we all love those sweet treats that come along with Valentine's Day, too many of them can cause of little ones to have some unwanted tag alongs known as cavities in the months to come. Try helping your child go through their goody bag or box and sort out the sticky gummy candies. Items like fruit snacks, Skittles, Starbursts, Jolly Ranchers, suckers, Air-heads, taffies and more can stay in your loved one's teeth for longer than expected thus causing a breakdown of the enamel that can ultimately lead to cavities. Chocolate is a safer bet, although it also has sugar, it is less likely to remain on the teeth for an extended period of time and can be washed off with water.  If you child does have any type of sweets but especially the gummy kind, make an extra effort to brush shortly after the sweet treat is consumed to remove the remnants of the sugar off of their teeth.
         Second, speaking of brushing, many kids are good at brushing quickly. You may tell them to brush their teeth and they may even put toothpaste and water on the toothbrush…but depending on your child's age, they may need help to properly brush twice a day (not to mention help with flossing). If you child is adverse to brushing (note especially young children), singing a song may help your little one be distracted while brushing and tolerate it better as well as let them know when they will be done (if you pick a song they already know). If you are feeling adventurous in learning a new song, there are a plethora of brushing songs that can be found on cartoons such as Sesame Street, Blippie, Kids Learning Tube, and more. Or you can use your trusty electronic device that is probably in your pocket (if you are like me), and pull up a song on kids You Tube about brushing teeth. Amazon has some great books as well such as "Brush Brush Brush" by Alicia Padron.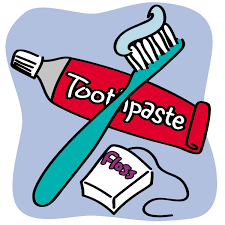 Thirdly, enjoy Valentine's Day and Children's Dental Health Month. It's all about balance, enjoy the sweets and get into a good brushing and flossing routine this month.
HOPE TO SEE YOU SOON!